Go to Reporting > System Information > System Diagnostics to run troubleshooting commands that can be sent to TitanHQ Support if required. See the table below for a description of each tool.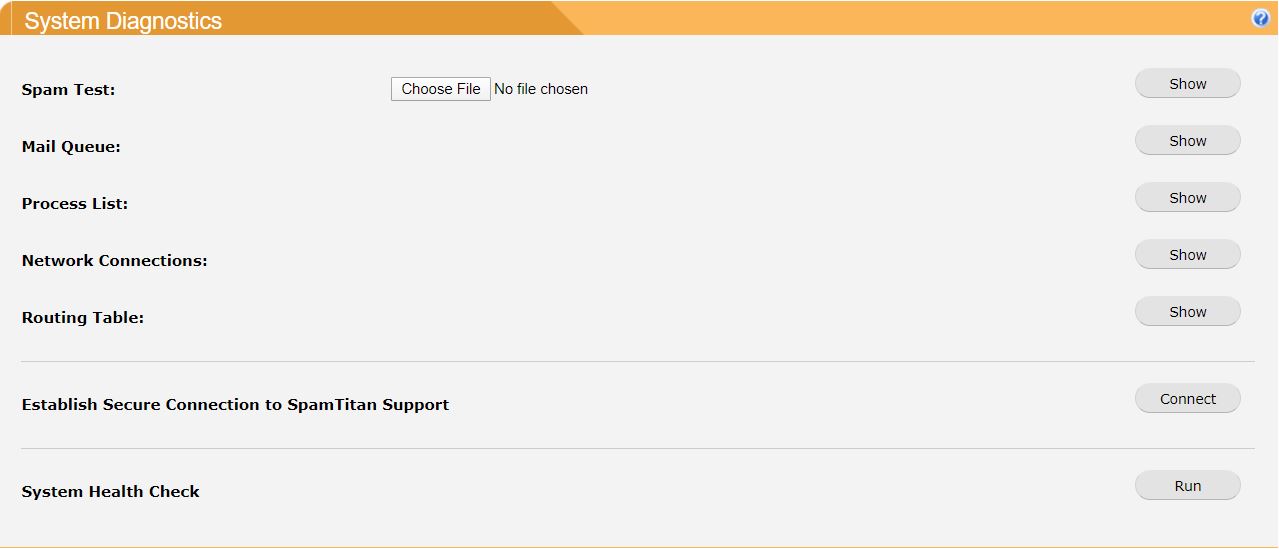 System Diagnostic

Description

Spam Test:

Use Spam Test to see how a message will be classified by the SpamTitan Gateway anti-spam engine. Click Choose File to upload an email and click Show to run the test. The output is displayed in a pop-up window.

Mail Queue:

Click Show opposite Mail Queue: to view a pop-up window with a summary of emails currently queued for delivery.

Queue ID: the internal identifier in the system for this email. A possible status character may be appended.

Status character: [*] indicates the job is being processed, [X] indicates the load is too high to process the job or [–] indicates the job is too young to process.

Size: the size of the message in bytes.

Arrival Time: the time the message was accepted into the queue. Sender/Recipient: the envelope sender and recipient(s).

If a message is retained in the queue a second line shows the reason why.

Process List:

Information about all the processes that are running on the SpamTitan server.

Network Connections:

A list of all active network connections to and from the SpamTitan.

Routing Table:

The contents of the routing table on the system.

Establish Secure Connection to SpamTitan Support

Click Connect to establish a secure connection from SpamTitan Gateway to TitanHQ Support if requested to do so by a TitanHQ support engineer.

Give the five-digit port number from the window that opens to your TitanHQ support engineer.

When requested, click Disconnect to close the port.

System Health Check

Click Run to perform a series of diagnostic checks on the system to ensure that it is configured correctly. The results highlight any potential issues with suggested recommendations.