Configuring Bitdefender Settings
SpamTitan Gateway uses the BitDefender antivirus engine as an additional virus checker that can be enabled to run in parallel with ClamAV and provide dual-layer virus protection.
Go to Content Filtering > Viruses > Bitdefender AntiVirus to view and manage settings. See the table below for information on each setting: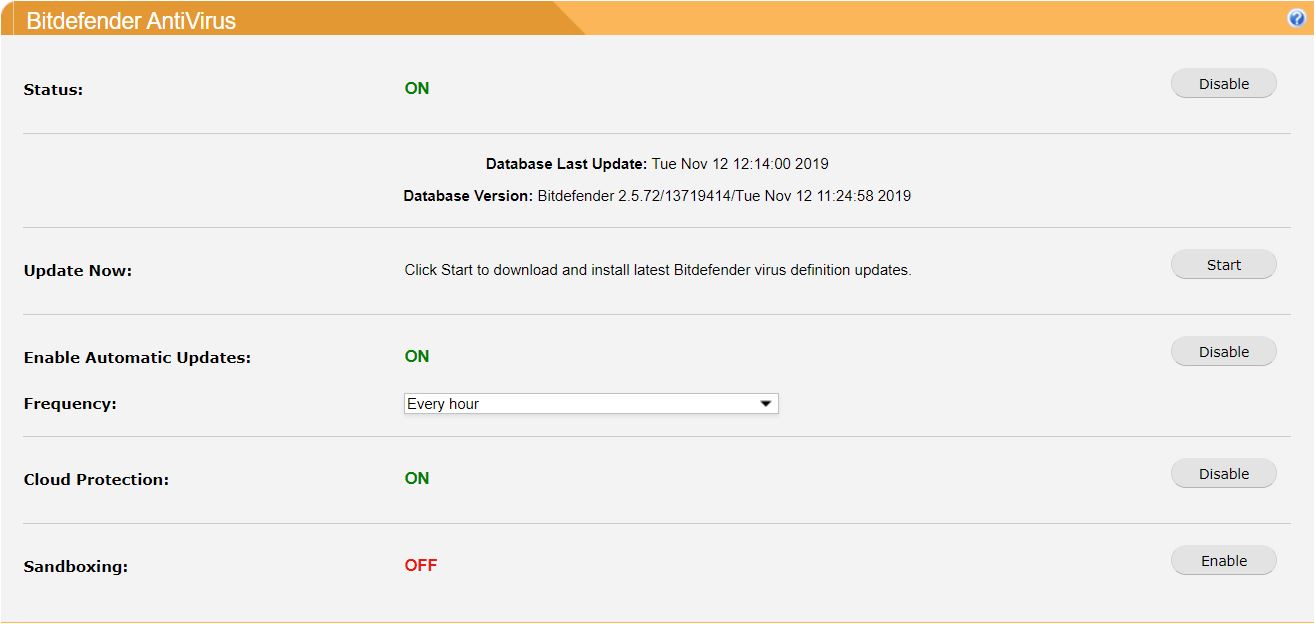 How the licensing works
The SpamTitan Gateway license includes an embedded Bitdefender license which is valid for the same period as the SpamTitan license. When the license expires, updates will be discontinued automatically. In this case, Bitdefender antivirus continues scanning mail but it only uses the antivirus database that was current when the license expired. This is because the updating function has become unavailable. It is important therefore to regularly review information in the license key and renew the license in a timely fashion.
Field

Description

Status:

Click Enable to enable Bitdefender virus checking.

If enabling for the first time, perform an Update Now action below to obtain the latest virus definition files.

Database Last Update:

Displays date and time the last Bitdefender update was applied.

Database Version:

Displays:

the current version of Bitdefender that is running on SpamTitan Gateway.

revision number for the latest definitions.

the date the latest definitions were produced.

Update Now:

Click Start to download and install the latest Bitdefender virus definition updates.

Enable Automatic Updates:

Click Enable to automatically retrieve and apply Bitdefender virus definitions. If enabled, select a frequency of every hour, every day or every week. The recommended setting is enabled, with a frequency of every hour selected.

Cloud Protection:

See Bitdefender Cloud Protection (default: enabled).

Sandboxing:

Click Enable to enable sandboxing (default: disabled). See Sandboxing in SpamTitan Gateway.