Modifying WebTitan Cloud Interface Settings
Go to Settings > Interface Settings > Interface Settings to modify your WebTitan Cloud user interface, which is fully customizable.
Using the table below as a reference, adjust your interface settings to determine how your WebTitan UI appears.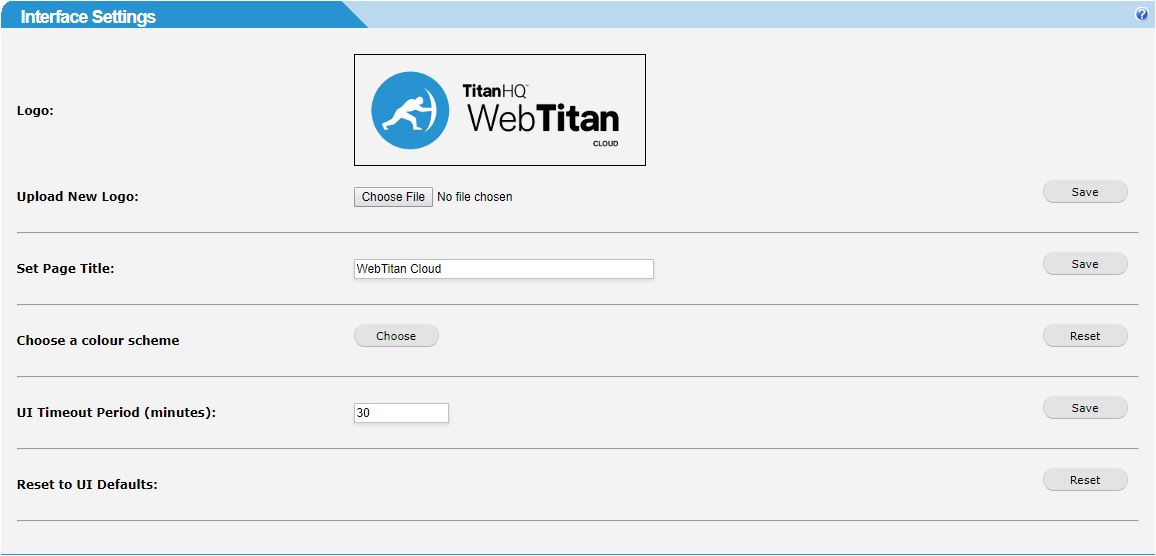 Field

Description

Logo:

The logo that is displayed at the top left of the WebTitan Cloud screen.

Upload New Logo:

To upload a new logo:

Click Choose File.

Select the image you want to use and click Open.

Click Save to display the new logo in the user interface.

To revert to the default logo, click Reset opposite Reset to UI Defaults:.

Set Page Title:

The title displayed in the browser tab for WebTitan Cloud. Edit the title and click Save.

Note

The contents of the Set Page Title: field is also used in PDF report headers.

Choose a colour scheme:

To change the UI color scheme:

Click Choose. The Select your colour scheme window displays:

Click each color to change the color value for that UI component. A preview display shows your new selections.

Click Undo to revert to default values.

Click Save to save changes or Cancel to discard changes.

To revert to default colors, click Reset opposite Reset to UI Defaults:.

UI Timeout Period (minutes):

Period of inactive time after which the user is logged out of WebTitan Cloud (default: 30 minutes).

Reset to UI Defaults:

Click Reset to reset all interface settings to default WebTitan Cloud settings.