To access the online help, select Help in the top right corner of your admin dashboard, which opens several menu options, described below.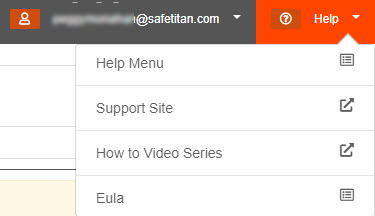 Help Menu
If you select the Help Menu, you can access SafeTitan documentation to help you with your tasks, as well as some FAQs.
Support Site
Selecting Support Site redirects you to the SafeTitan Help Center.
How to Video Series
In addition to the documentation, there are a series of how-to videos, which you can access.
Eula
Select Eula to read the End User License Agreement.