Log in to SafeTitan MSP Admin Portal
As part of your SafeTitan setup, you supplied a Microsoft email address and Azure Tenant ID to your SafeTitan account manager. In return, you received a Welcome email with information to help you complete the sign-up process: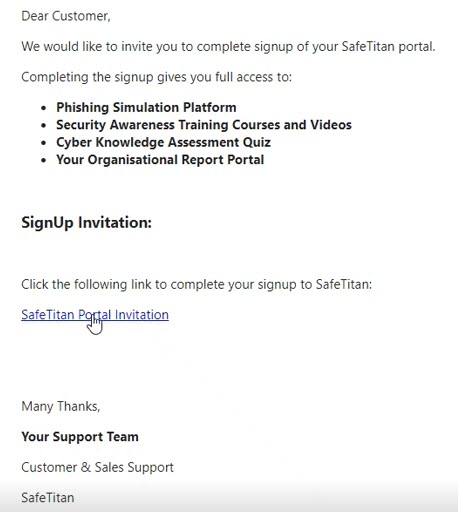 To complete the process and log in to your SafeTitan MSP Admin portal, follow these steps:
Select the SafeTitan Portal Invitation URL provided in the Welcome email.

In the SafeTitan MSP Sign-Up window that opens, verify that your details are correct and select the Complete Signup button:

If you notice an error, please contact SafeTitan Support for assistance.

In the next window, select Sign in with Microsoft to enable the connection between SafeTitan and your Azure Active Directory (AD).

To initiate Admin Consent and allow the SafeTitan SSP to log you in automatically, click Accept in the Permissions dialog to continue.
After acceptance, you are automatically logged into your MSP Admin Dashboard from where can access all the tasks necessary to manage customers and their phishing and training campaigns.